Bram Stokers Dracula
An All Time Classic Vampire Tale
Bram Stokers Dracula has remained an all time favorite vampire movie. Just hearing Annie Lennox's Love Song For A Vampire through the ending credits would make it worth watching, but there is a whole lot more!
Gorgeous 43 x 62 Movie Poster
Anthony Hopkins as Dr. Abraham Von Helsing could not be better cast. Hopkins was the perfect choice for the role.
Winona Ryder and Keanu Reeves were perfect as Mina Murray and her beau Jonathan Harker even though some fans poked fun at Keanu's British Accent.
View Your Vamp Movies Instantly With Netflix's FREE Trial
And as for the character of Count Dracula the choice to cast Gary Oldman turned out to be what made this whole cast work together to make the perfect Bram Stokers vampire film.
I've watched Bram Stokers Dracula so many times that I can recite the gaffs that occur. There's one where a cowboy hat is being sat on, then the camera angle changes and poof, the hat is in the hand of the character. Hey, it happens in film making.
Gaffs aside, what makes this movie a classic vampire movie is that Bram Stoker's original story was turned into a love story that added something to the character of Dracula that is now penned into the scripts of almost every vampire story that followed... that of the lonely vampire searching for lost love.
Winona Ryder also played the long lost Elisabeta who Dracula lost long ago.
The film followed the diary style format from Bram Stokers book, but the story was changed just enough to make it an extraordinary film for those who also enjoyed Stoker's book.
Oldman as Dracula telling Mina Harker who looked exactly like Elisabeta said, 'I have crossed oceans of time to find you.' Who could resist a line like that? It is one of my favorite movie quotes of all time. That gut wrenching all consuming undying love. It will make the female hearts melt, and give the guys ideas for lines to use in their pursuit of romance.
Whether you have seen it or not. Take a look or another look. Bram Stokers Dracula is a classic now just as the book remains an all time classic vampire tale and certainly one to watch.
Dracula Movie Reviews
Dracula Movie My favorite vampire movie is still Frances Ford Coppalla's version of Dracula. I love vampire movies. There is something just stirring and seething about ...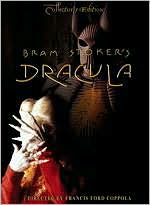 Get it On DVD
Return to Vampire Movies from Bram Stokers Dracula
Return to Vampire Empire Home Page