Dracula Movie
by Nathan
(NY, US)
My favorite vampire movie is still Frances Ford Coppola's version of Bram Stokers Dracula movie.

I love vampire movies. There is something just stirring and seething about the image of a vampire, completely sexually charged.

Even though there is a lot of buzz about films like Twilight, or TV series like True Blood, Bra Stoker's Dracula movie is still the best.

The stage set, costumes, and film are so luscious and beautiful. You watch the film and you feel like you're stepping back into the Victorian era, being enchanted by some Romantic poet.

With all the repression of that age, the vampire, so intimate, sucking blood is the ultimate in lust and forbidden love.

The cast of Dracula is incredible: Gary Oldman, Anthony Hopkins, Winonna Ryder, Keanu Reeves, Tom Waites, Cary Thewis are all compelling and wonderful.

The woman who plays Lucy, is also so beautiful. There is a scene where Mina and Lucy flip through the Kama Sutra, and the image of innocence being seduced is so amazing.

Gary Oldman's portrayal of Dracula in this vampire film draws the viewer in. You wish you were the one being seduced by this undying lover.

There are so many magical moments in this movie. The female vampires that are the three brides of Dracula that hold Jonathan as their slave, are an amazing image.

The movie is actually an improvement on Bram Stoker's prose. Another thing that I like about this film is that the dark side of the vampire isn't hidden.

Vlad can change forms...become the mist, be a horrible bat like creature, hold Renfeild as his slave.

While some of the films today shy away from the evil embodied by the vampire, Coppola fully embraces it. The dark side of the character makes the movie all the more romantic.

The movie soundtrack is also incredible, I could play it over and over in my mind. It perfectly heightens the moments of suspense, and is utterly beautiful.

I think this vampire film is an underrated classic, and with the resurgence of the vampire, I think any fan would love to revisit the Dracula movie.


NOTE FROM VAMPIRE EMPIRE EDITOR
I have to agree with you on your assesment of this vampire movie. Romantic, beautiful, amazing imagery.
One of my favorite quotes of all time came from the Drcaula movie, "
I have crossed oceans of time to find you
." I LOVE that line. The first time I heard that while watching the film I sat up a little straighter and thought, how beautiful.
Thank you for sharing this Dracula movie review.
Constance
Editor
vampire-empire.com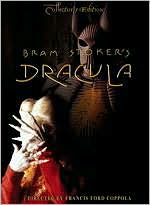 Get it On DVD
Please feel free to email us with suggestions and comments. We are always looking for ways to improve the 'Empire' and put in information that would help our fellow vampire enthusiasts!