Grave Of The Vampire
Grave of the Vampire is the movie you seek.

We received this question from one of our Vampire Empire readers...

"The vampire movie starts out with a party thrown by teenagers. Two teenagers go into the graveyard to make out just when a vampire is rising from the grave. The vampire kills the boy and has sex with the girl on top of a crypt.

Later the girls has had a baby who must be fed with blood to survive. She gives the baby her blood. As the child grows he must be kept indoors from the sun or outside in strong shade.

Later on you find that the mother has passed away and the young man, has grown very muscular because lifting weights is the only exercise he is allowed to do.

One night he and some of his friends are invited to this mansion to visit with the owner. The owner is the vampire that had intercourse with the young man's mother. Some of his friends perish and the boy fights his father to save his girlfriend.

I don't remember how it ends. Could anyone help me name this movie?"

Yes, we can help you remember the name. The movie you describe is Grave of the Vampire. Hope that helps!


What Others Have Said Regarding This Gem of a Vampire Movie...
"I wasn't really expecting Grave Of The Vampire to be very good. I bought it because I found it in a bargain section for only a couple of bucks. I must say, that it was well worth it. Grave Of The Vampire has one of the most atmospheric graveyard scenes that comes to mind. Weird lighting, fog, and sinister music really make the opening scene in an old cemetery quite effective. Michael Pataki makes a great vampire. Actually, he looks like a zombie vampire during the opening scene, which I really liked. Not comparable to something like Blade for example. However, for a good, spooky night movie it certainly hit the mark."
"This film has several disturbing elements which shoved it over the line of a traditional vampire movie; vampire rape, for one. Vampire offspring for another. Take two parts "Count Yorga: Vampire" and one part "Children Shouldn't Play With Dead Things" and you have this flick. But it is an excellent B-movie in the horror genre with a definite 70s flair."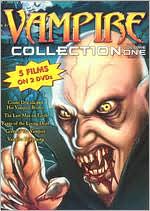 Available on this Collection of Vamp Flicks
Join in and write your own page! It's easy to do. How? Simply click here to return to Favorite Vampire Movie.


Also, be sure to sign up for our Vampire Empire newsletter!


Please feel free to email us with suggestions and comments. We are always looking for ways to improve the 'Empire' and put in information that would help our fellow vampire enthusiasts!