Vampires In The News - Fright Night Remake
Vampires In The News - Fright Night Remake

Fright Night was one of my favorite vampire movies. Actually, it still is. Written and directed by Tom Holland, the original Fright Night was a comedy horror starring Roddy Mcdowell, Amanda Bearse, Chris Sarandon and William Ragsdale.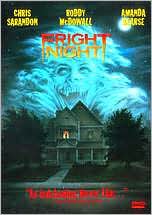 Very entertaining horror flick with a good mixture of suspense, comedy and special effects. If you did not see the original you really should check it out.



Fright Night is an 80s vampire film for the classic horror fanatic. Paying homage to such staples as Dark Shadows and the Hammer Dracula franchise, this surprising little horror film supplies vampire lore and cliches aplenty, put together so skillfully that the result is this horror fan's favorite vampire indulgence.

The remake will star Colin Farrell. I like it already! Farrell will play Jerry Dandrige, Fright Nights vampire. I like it even more.

In a January interview with Collider, producer Michael De Luca described the remake as a counterpoint to the current, pop culture incarnation of a vampire movie.

"We thought it would be interesting if, in this atmosphere of the way the vampire is being portrayed right now as a romantic object, under the wire of all that in the culture the real thing moves in next door. And the real thing is a killer. Just a predator. It's the shark from Jaws.

On the outside it's a seductive package and it looks like a human being, but it's just about ripping your throat out and drinking your blood. And introducing that kind of vampire into the current environment and also taking advantage of the original's brilliant structure of the boy who cried wolf.

This kid, you know, this adolescent boy you're trying to figure out what kind of man he wants to be. Product of a single-parent household-single mom. Being the man of that relationship. Being the man in his new relationship with his current girlfriend. Having an older male vampire move in next door and kind of put the moves on both the mom and girlfriend and what it does to this young man's rite of passage from boyhood into manhood.

I think the original is almost 50/50 or even more laughs than scares. And I think we're going to have appropriate dark humor and sardonic humor and sarcastic humor and erotic humor, but not tongue-in-cheek or cheesy humor but really go for some scares and some depths of character in terms of what these teenagers are going through in their lives before the vampire kind of comes in and starts taking pieces out of everybody's lives."

The original Fright Night was well-received, winning three Saturn Awards, a Dario Argento award, a critics' award- special citation at Fantasporto. Let's see if the remake can hold on to the glory.

Vampires In The News - Fright Night Remake

Join in and write your own page! It's easy to do. How? Simply click here to return to Vampire News.


Also, be sure to sign up for our Vampire Empire newsletter!


Please feel free to email us with suggestions and comments. We are always looking for ways to improve the 'Empire' and put in information that would help our fellow vampire enthusiasts!